Tele-Counseling
I am now offering online/phone therapy and counseling sessions during this time of "social distancing" due to COVID-19.
Your privacy and confidentiality are safe using my 100% HIPAA-compliant tele-counseling app. It includes video appointments with screensharing capabilities.
Your online therapy sessions are even covered by most major insurance companies.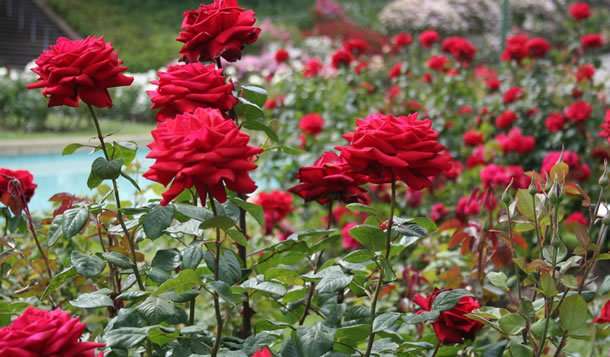 Risk
"And the day came when the risk to remain tight in a bud was more painful than the risk it took to blossom."
– Anais Nin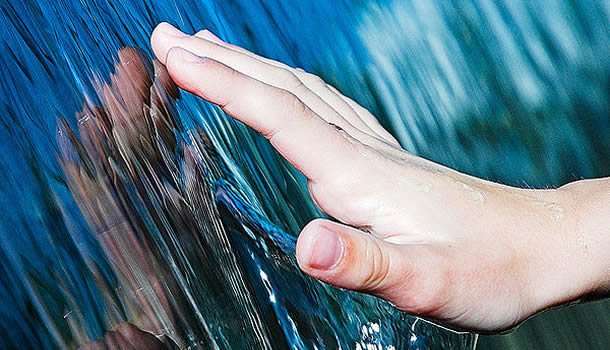 Connection
The time for you is now.
Choose to take action.
Photo by: David Kirkby http://www.flickr.com/photos/cdm/53197139
Individual Psychotherapy sessions
Couples & Family sessions
Somatic Experiencing® sessions
Stress Management
Personal Growth
Anxiety
Depression
Parenting Support
Grief and Loss
Substance Use/Abuse
My passion is trauma intervention and resolution. Traumatic events have multi-dimensional impacts. Regardless of the severity of the event, expert intervention can help someone to recover and thrive emotionally, which facilitates physical healing and can give them their life back. It is a privilege to witness others' healing.
I have experience in multiple medical and psychiatric settings, a thorough understanding of various treatment modalities and am actively involved in training mental health professionals in Somatic Experiencing trauma resolution techniques within Texas and internationally. In doing this work, I have traveled to China, Canada and Australia.
I have trained under Dr. Diane Poole Heller, author of Crash Course and developer of the Dynamic Attachment Re-patterning training course, Kathy Cain, developer of SE® Touch Skills Training course, and for many years with School Psychologist and SE® Instructor Maggie Kline, author of Trauma Proofing Your Kids and Trauma through a Child's Eyes.
Encouragement… Comfort… Healing
Simply by clicking onto this website you have taken a very courageous step in the journey towards health and wholeness. One must be able to first recognize that something is missing or uncomfortable in their life. When you recognize this, you can begin the search. You don't have to know what you are searching for, because I can help you in this process of discovery. When you seek, you will find… It is my goal to inspire, encourage and illuminate the path for you as we explore together to identify and further develop your strengths. We will then identify obstacles in your life that have been interfering with you living to your full potential.
Somatic Experiencing ® Sessions
Somatic Experiencing ® for resolution of trauma involves a process of establishing a sense of safety. This becomes defined uniquely by each individual. Identifying what that is, guiding you in the process of recognizing your specific needs and overcoming barriers that interfere with that internal sense of safety is the first step towards empowerment. During a SE® session you may be asked to talk about different sensations you are experiencing in your body as you release stored emotions. I would be happy to discuss with you how past traumatic events, however minor, may still be "locked down" in your system and how I can guide you in releasing them in order to experience more ease and energy as it flows more freely throughout your body, allowing you more mental, emotional and physical clarity.
Psychotherapy Sessions
For Individual Psychotherapy sessions you will meet individually with me on a regular basis, typically weekly, to discuss whatever issues you are having or changes you want help with. For Couples Psychotherapy sessions I meet with both parties in the relationship, either together or separately, to resolve issues that are negatively impacting the relationship.
Somatic Experiencing® (SE)
What is Somatic Experiencing®
Somatic Experiencing® (SE) is a counseling approach that helps to resolve and heal trauma. Peter Levine, Ph.D. has worked in the field of trauma resolution for over 45 years. He discovered that animals in the wild have a natural and instinctive way of managing traumatic events. When the physical body gets stressed as a result of a
perceived
threat, the survival instincts take over in the form of a
fight or flight
response. It is critical to clarify that the individual's perception is what determines whether there is the experience of threat, therefore triggering the survival response.
If the body is not able to express the fight or flight energy, the nervous system enters a state of freeze. This often happens when an event takes place almost instantaneously, allowing no time for a response. This results in the survival energy becoming "locked" or frozen into the nervous system. This is where the phrase "frozen in our tracks" comes from. In nature, animals are able to release this energy once the threat has passed by allowing their bodies to complete the threat response cycle and discharging the excess energy from the nervous system.
We humans also have this capacity to discharge survival energy once the threat has passed. You may recall a time of being shaky after a near miss from a potential car accident. However, with our advanced analytical brain – the frontal lobe – humans are able to repress this natural process of releasing this activated survival energy. For example, when we trip and fall and twist an ankle, we are inclined to get up and dust ourselves off, to keep moving along, as if nothing happened. As a result, the energy created by the adrenaline surge from the event remains stuck in the nervous system and will lead to complications in the healing of the ankle. This phenomenon is very common in car accidents. As a result of the suddenness and intensity of the impact, the individual is in a mild or moderate state of shock, which is essentially a state of freeze.
What Somatic Experiencing® can help with:
Irritability
Sleep difficulties
Chronic Stress and Tension
Anxiety
Emotional recovery from a physical trauma:
Car accident
Attack or Fall
Surgery
Severe illness
Resolution of Emotional trauma:
Childhood dysfunction o Relationship conflict
Severe work stress
Physical/Emotional Abuse
Repetitive self-destructive behavior patterns
Videos from Peter Levine PhD
https://youtu.be/Un-eCY22T-E
The Somatic Experiencing® View of the Nervous System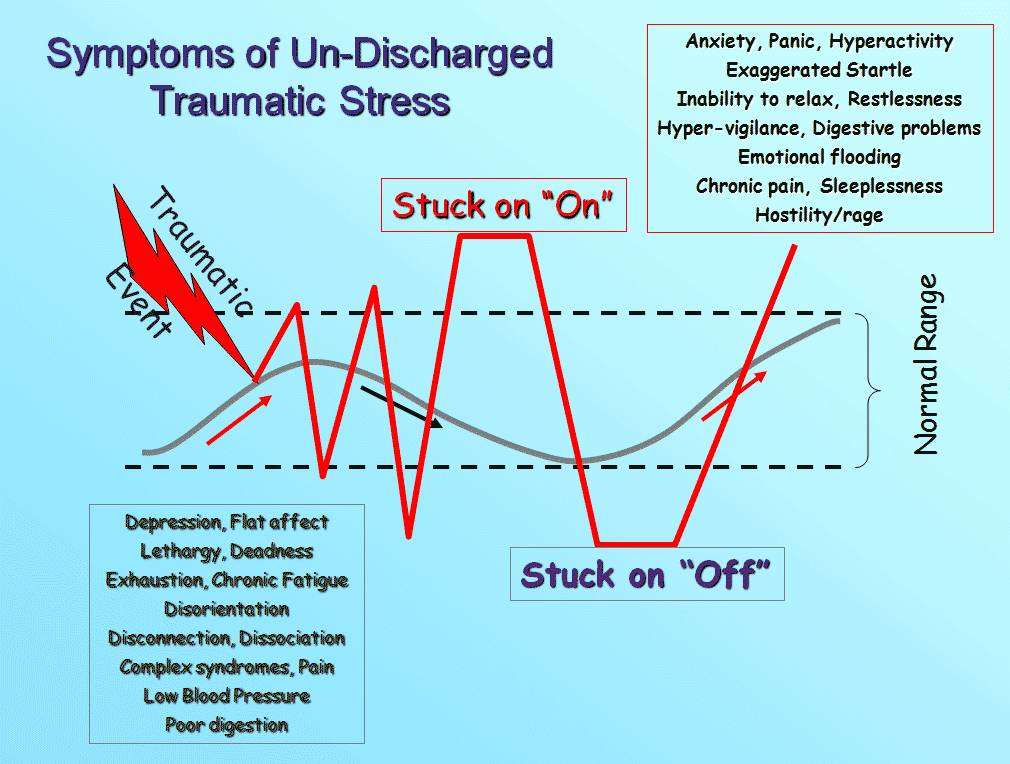 Symptoms of Un-Discharged Traumatic Stress
This slide shows what your nervous system looks like when there is UN-discharged traumatic stress.
About Me
I have been working in the Behavioral Health field since I graduated with my Bachelor's in Psychology in 1987. I studied a great deal of Biology as an undergraduate, since I originally started off as a pre-med student. For me, the mind and body have always been inseparable.
With this understanding of human physiology, I found myself becoming more involved with clients who were experiencing physical symptoms, often as a result of years of chronic stress or a significant traumatic event.
When I embarked on my own exploration of how to best facilitate their recovery, I discovered Somatic Experiencing®. I have now been practicing this method for almost 10 years, incorporating it into my psychotherapy modalities. It has provided the "missing piece" in guiding individuals to experience the connection of their mind, body and spirit – when it all works together as it is meant to, allowing balance and coherence, clarity and energy, and a feeling of wholeness and serenity. In addition to my private practice, I now travel throughout the world as part of an international training team helping to teach other healers how to incorporate these techniques into their own practices.
My passion is teaching others to unlock the "ordinary miracle of healing," which is a potential within each of us. I do this as part of my individual work with clients and in the training classes in which I am involved. I love my work and am very fortunate to have the opportunity to tell others about it.
Credentials
27 years of mental health experience
Master's Degree in Counseling, Texas State University (1992)
Licensed Professional Counselor (LPC) in the state of Texas
National Board Certified Counselor (NBCC)
Certified Clinical Mental Health Specialist in Trauma Counseling
Certified Clinical Mental Health Specialist in Child and Adolescent Counseling
Certified Somatic Experiencing® Practitioner
Certified in Neurolinguistic Programming (NLP)
Specialties
Trauma & PTSD
Behavioral Issues
Addiction
LGBT Therapy
Rates
Initial Intake: $200
Follow-up: $150
Get in touch
Thanks for looking. We'd love to hear from you.
Donna M. Hilbig, M.Ed., LPC,
3625 Menchaca Rd., Ste. 303, Austin, Texas 78704
Phone: (512) 515-1545
Fax: (979) 393-0164
By Appointment Only.
Flexible Hours. Evenings and Weekends available upon request.
We will get back to you asap. Fields marked with * are required.
Common Questions
Therapy is not for people who "can't handle" their own problems. It is for those who want to discover what works well in their lives and how to do it better. It is for identifying what barriers are keeping you from living a fulfilled life – whether it is lack of intimacy, difficulty in communication, conflicted relationships, work performance, physical pain or discomfort, grief, childhood developmental issues, parenting, educational achievement or a significant traumatic event. When there are substance abuse issues, it complicates all of the above.
What about medication?
Whether or not to try medication is a serious consideration. Whatever the decision, it is important to thoroughly outweigh the risks versus the benefits. Psychoactive medications have evolved significantly over the past 20 years. Many of the early medications used for anxiety or depression had serious risks and side-effects. There are now much safer medications available. A good therapist can help you evaluate specifically what objectives you want to achieve and whether medication might be useful, as well as discuss the risks and benefits. Evidence from the most current research overwhelmingly recommends for individuals to also receive psychotherapy if they are to begin pharmacotherapy. A psychotherapist does not prescribe medication but can help you find a medical practitioner who does.
Does my insurance pay for therapy?
I am an authorized provider on several insurance plans. In order to know whether your plan covers psychotherapy and my services, it is important for you to call and verify this for yourself. There is a number on the back of your insurance card that you can call to get this information. Your insurance plan will usually have a separate number for you to call to verify your MHSA – Mental Health/Substance Abuse – benefits. At that time, you can request an authorization for psychotherapy, or counseling, services if your insurance company requires one.
Donna Hilbig M.Ed, LPC expressly disclaim all warranties and responsibilities of any kind, whether express or implied, for the accuracy or reliability of the content of any information contained in this site, and for the suitability, results, effectiveness or fitness for any particular purpose of the content. You are solely responsible for your use or reliance on such information and any foreseeable or unforeseeable consequences arising out of such use or reliance. In no event will Donna Hilbig be liable for any damages resulting from the use of or inability to use, the content, whether based on warranty, contract, tort or other legal theory, and whether or not Donna Hilbig is advised of the possibility of such damages.